Who we are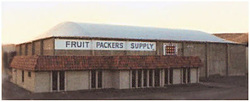 Fruit Packers Supply, Inc. was founded in 1960 in Yakima, Washington by W.B. Kile Jr.

Mr. Kile was a visionary who saw the need for quality goods and services in the fruit packing industry. He set the course and policies that are in place today.

W.B. Kile III assumed leadership in 1975, successfully guiding our company as his father had. In 2006, W.B. Kile IV became the new owner and president. Moving forward and seeing an opportunity for expansion, Fruit Packers Supply has open distribution centers in Wenatchee and Chelan Falls, Washington, in 2012.

We are a growing company with the same mission we were born under - To provide the highest quality of service and products.
---
What we do

We work closely with packers and farmers, helping them with their post-harvest
packaging needs in almost every aspect, from cleaning the produce, to shipping
the packed boxes. Our primary markets are apples, cherries and pears, but we have packaging solutions for stone fruit and field packing.



---

​Copyright 2017, Fruit Packers Supply Inc.